Hello all.
Just a word in advance, I'm not starting a flame here.
Does anyone find it harder to control animation in Blender compared to Maya and Max?
I'm not starting a "mine's bigger than yours" thread, buth rather, I'm just wondering why they didn't improve the animation system so it's easier to control.
For example, say if I want to move a keyframe in the time slider. I can't. I believe if I can grab a keyframe and move it, it would be much easier to control my animations.
For now, the only way I could move (indirectly) a keyframe, when I have it set, is to undo the setting keyframe and change the time slider to the desired frame number, then set the keyframe again.
In the case of posing bones, this can be a real mess if the 3D artist is not careful.
If a keyframe is misplaced at the wrong frame number, then the user will either have to undo and position the time slider at the right frame or move the keyframe via the Ipo curve editor which is hard (for me) to move to a appropriate frame number.
There is no delete key frame button (unless I've overlooked it). I can find the delete marker (which I'm not sure what the marker is for), but not delete key frame.
I can delete the keyframe from the Ipo curve editor but lets say I had a complex animation graph, with millions of dots - which dot's which?
Obviously, it would take a while to find the right dot, at least not as neat as selecting the key frame from the time slider.
When I want to add keyframe to just a channel, for instance, the local X channel (i.e. I want to add a keyframe for a cube moving along the X axis), I tried selecting the local X channel and pressing the " I " key but no keyframe appeared on my graph.
Currently, the only way I could make a simple transition animation along the X axis is if I press the " I " key in the 3D viewport, but that adds not only a keyframe to 1 channel, it places a key frame all three translation channel (local X, local Y and local Z).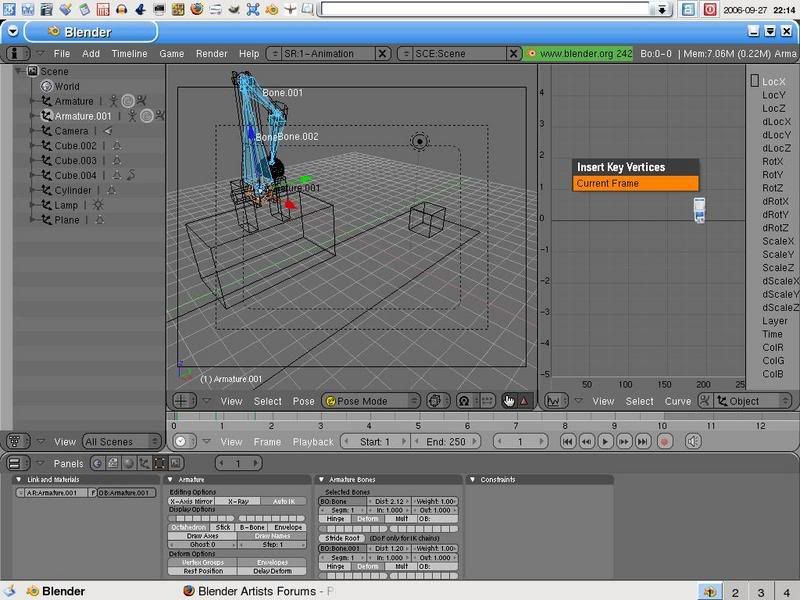 What do you guys think - would it be beneficial (more / less) if these additional features were included in Blender?