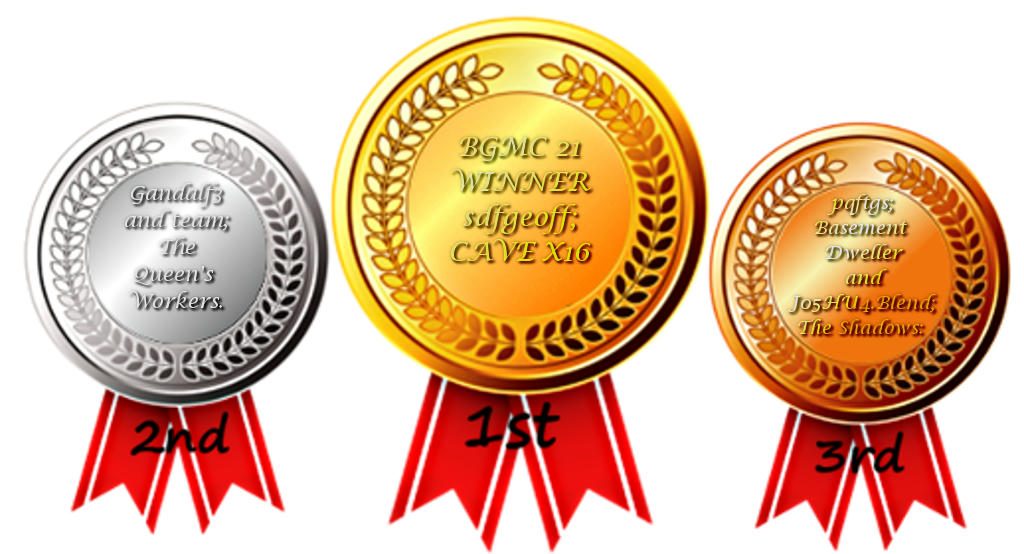 The BGMC 21 is over and I can now announce the winners![INDENT=2]1st place:
sdfgeoff and PPski; Cave x16
2nd place:
[I][B]VScalia (ARadish), Gandalf3 , and X-27
(and GiantCowFilms); The Queen's Workers.
(joint) 3rd Place:
pqftgs; Basement Dweller
and
JO5HU4.blend; The shadows.[/B][/I]
[/INDENT]
If you haven't already done so you should go and check out their games on the finished games forum!
Prizes from our sponsors, CG Cookie and Blend4Web go to sdfgeoff, for his winning game, Cave x16.
You can show your appreciation for their generous prizes by going and checking them out at the links above.

CG Cookie Prize
Hey there,
This sounds really cool. Count CG Cookie into sponsoring a year Pro subscription to Cg Cookie. Valued $239.
Additionally, I can hep spread the word by adding this thread to the feature row, and sharing on BA's social channels. Thanks for helping organize this and excited to see how it goes.
Wes Burke
CEO, CG Cookie

Blend 4 Web Prize

Hi,
We noticed that Blend4Web games are allowed to participate in the current gamedev contest!
We would like to join sponsors and offer $150 (cash) plus 15% discount on Blend4Web PRO to the winner, no matter whether he or she chooses the BGE or Blend4Web.
Blend4Web Team
Prizes of tutorials and game assets from me, adriansnetlis, and also sdfgeoff will also be awarded.
Congratulations to all the winners, and especially sdfgeoff.
I look forward to BGMC 22, which he will hopefully be hosting some time soon(ish).
All the games were great though, and I enjoyed playing each and every one. Thanks to everyone for taking part!
I'd like to also say I really enjoyed Basement Dweller, a great little game that shows you don't have to make an epic to entertain people. I'd love to see more games like that.