This week's theme: Primitives
Pure Entries
broken [list:a32634e55a]
Phew, just in time!

dreamsgate
"All hail the mighty primitive!"
http://myweb.cableone.net/jprintman/WC/Primitive.JPEG.jpg
Fonix Wircs
Primitive Child's Play, The art of fitting a square peg in a round hole.
http://img.photobucket.com/albums/v87/FonixWircs/ChildsPlay.jpg
fudje
Under the microscope


http://img.photobucket.com/albums/v64/fudje/3d_stuff/blender_wc/fudje-primitive.jpg
GCat
a bygone era


http://homepage.mac.com/garagecat/.Pictures/Photo%20Album%20…
Hoagies
The primitive airplane
http://gallery.mudpuddle.co.nz/public/dinousaur
IgorSandman
I considered primitive as archaic and designed a primitive video game that would be called "Battle for Tanis". Tanis was the capital of ancient Egypt during the 21st and 22nd dynasties (around 1800 BC).


http://users.skynet.be/igorsandman/blender/tanis.jpg
Kansas_15
Okay, I got my entry, all you need to know about the image is in the caption
http://gallery.mudpuddle.co.nz/kansas15/0034_G
Knightmare
·•Primitive Survival•·

laniru
This is done after a painting by Mattise, very primitive in theme, like a lot of early 20th century art.


http://www.geocities.com/laniruart/picturepage.html
Marcoscosci
Here you can find my entry for primitives, day end for the 4 mining brothers:
http://www.freewebs.com/marcoscosci/Blender/WC_112.htm
Modron
a cube


http://home.att.net/~yorik/cube.jpg
Nathan
the Blevolution


http://img.photobucket.com/albums/v215/swifteye1990/wc_112final2.jpg
niknah
All of us here must have inherited some genes from the primitive peoples who did these drawings…


http://users.bigpond.net.au/niknah/cavepaint.jpg
olivS
Here's my entry. I suppose it's a Pure entry (I reused the pots of the background, and the body settings of the MakeHuman character is totally new… Working more on them in hope to see them in the templates I'm designing for the MakeHuman projects).
http://olivier.saraja.free.fr/elysiun/Finished/WC112-Primitives/wc112-olivs.jpg
Prince
Refractions of Sunset

RageTheSage
A primitive concept


http://www.ragethesage.com/primative-wip2.jpg
RetroJ
Pure entry.


http://jjfoerch.com/images/solids_16aug2004.jpg
Robertt
Primitive in several senses…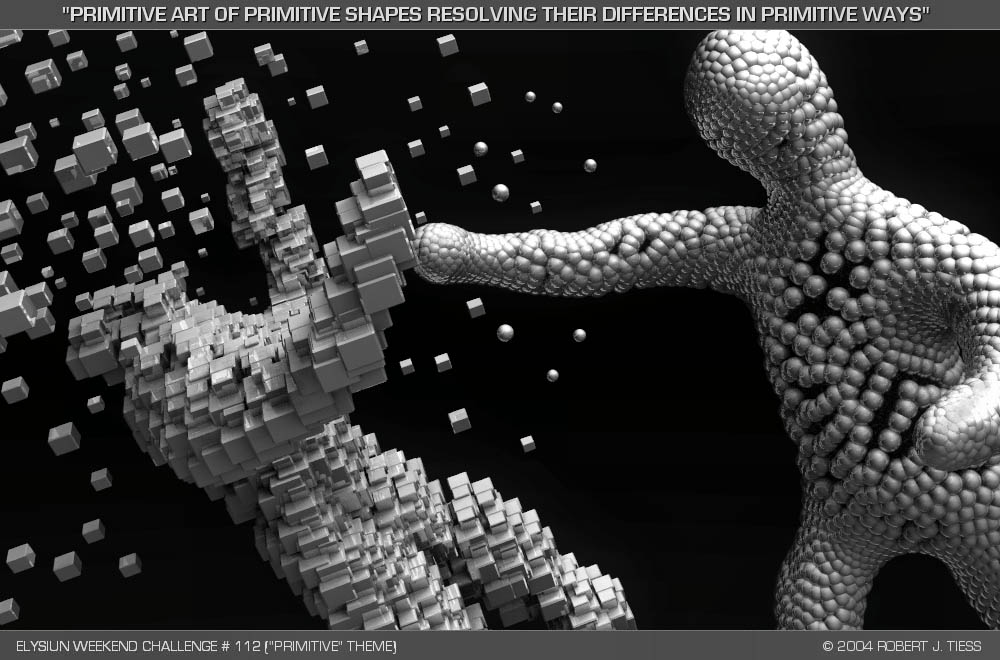 SoloCreator
I'm still not all that happy with the end result but here's my entry. In relation to the modern day, the Mayans were quite simple yet an extremely innovative civilization. I hope you like it!


http://img.photobucket.com/albums/v174/Nitro3d/WC112Entry.jpg
sonix
Primitive objects used for modeling:- two circles, two cubes, one donut, one tube and a text object. (Obviously modified primitives.)
http://www.free-webspace.biz/sonix/elYsiunWC/Primitives.html
sornen
Wonderful Life


http://gallery.mudpuddle.co.nz/albums/somen/wonderfullife.jpg
SpindleRift
My Entry's title, Caustic Primitive Behavior, depicts 2 meanings of topic:
How costic reflections behave with primatives.
Cutting or Damaging unsofisticated behavior.

http://img.photobucket.com/albums/v437/spindlerift/WC112.jpg
TGinn
Infinite Stairway


http://www.cuneo.us/tesmw/images/TGinn/stairsfinal.jpg
wijt
"Jason should have chosen a different primitive."

Wizard
This is the Newton's Cradle; an appartus used to demonstrate Conservation of Momentum & Energy. The model is comprised entirely of Blender Primitives: spheres and cylinders (the only operations used for the primitives were rotate, scale and translate).
http://www.websamba.com/ahmadkabani/WIP/cradle/cradle.asp
[/list:u:a32634e55a]
Open Entries
crow [list:a32634e55a]
Pure, image is from blender.org Siggraph put onto a plane the other is a vertex painted logo (except text bubble and resize of the 1.5mb file!!!)


http://img56.exs.cx/img56/3310/HAHAHA.jpg
[/list:u:a32634e55a]