This week's theme: Your Favorite Movie Scene
Pure Entries
block01cube [list:4d9ea49fe3]
The ominous Alien spacecraft looms on the horizon. Ignorant of the horror that awaits them, the Nostromo's crew advance on the source of what appears to be a distress call…


http://www3.telus.net/bpauw/img/alienshiprender01.jpg
Hoagies
Here is my entry
couldn't finish it oh well
http://gallery.mudpuddle.co.nz/hoagies/Pod_racer_003
Hos
Daaaaaisy, Daaaaaaaaaiisy …


http://bebop.cns.ualberta.ca/~cwant/2001.jpg
IgorSandman
Pure blender except a few touch up in PS. (the sky was also done in PS)


http://www.rootscore.org/~blenderclan/html/modules/xcgal/displayimage.php?pid=535&fullsize=1
kirpre
This is a scene representing the original movie version of The Manchurian Candidate from 1962.
"Why don't you pass the time playing a little Solitare?"


http://gallery.mudpuddle.co.nz/public/Manchurian
Marcoscosci
The scene is from "gone in 60 seconds" in which a "retired" carthief has to save his brother to steal 50 cars in three days. When stealing the last car, he is being chased by the police, than he's surrounded. The main person has one option, making speed and lift and flying over the rows of cars. And he makes it icon_eek.gif icon_eek.gif. The car is called "Eleanor".
http://www.freewebs.com/marcoscosci/Blender/WC_116.htm
pamtango
My Dracula


http://sfsierrasingles.8m.net/blender/vampire.png
penitentman
"Yeah. The funny thing is - on the outside, I was an honest man, straight as an arrow. I had to come to prison to be a crook. "


http://penitentman.com/images/blender/homershank.html
PlantPerson
"I think you know what the problem is just as well as I do…"
I was afraid to model Dave, though. If you don't know, this is from Stanley Kubrick's 2001: A Space Odyssey.


http://img.photobucket.com/albums/v228/PlantPerson/halrender.jpg
Robertt
Inspired by a favorite scene from "Singing in the Rain"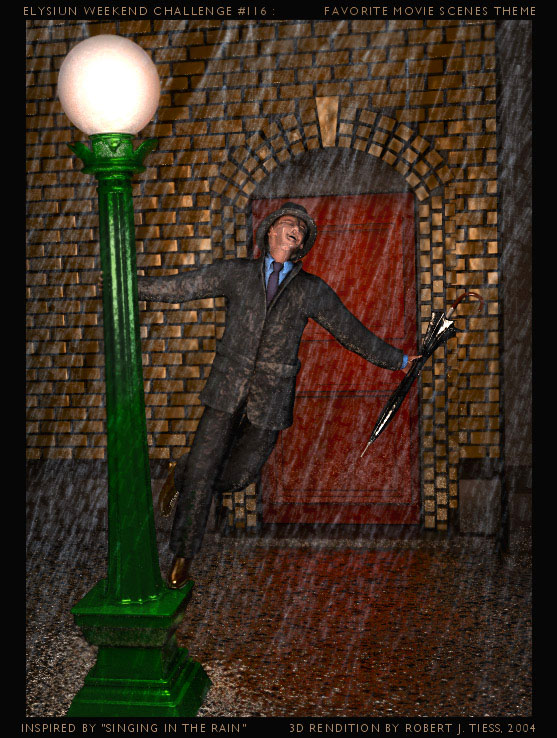 Shard
A weekend challenge 65 million years in the making. It is the jurassic park visitor center.
http://gallery.mudpuddle.co.nz/shard/JURASSICPARKVISITORCENTER
SoloCreator
Sorry about the last minute entry. I suddenly found some spare time and had to make something quick. This is five hours work. Shame I only managed to make the head but here is my PURE entry for all you sci-fi fans.


http://img.photobucket.com/albums/v174/Nitro3d/WC116Large.jpg
[/list:u:4d9ea49fe3]