Current Challenge Status

Pure Entries
ray_theway[list:f14117e91a]I call this Siegeworks.
Pure Made all in Blender. I did use the l-system script for the lightning and RipSting's grass script for the grass. The stone texture is from the Texturing a Castle tut.

http://mywebpages.comcast.net/rayae1/WC13.jpg
scrappyi call him "Evil from the Times" i decided to give him reddish eyes at the last miniut. i didn't like the blue too much, made him seem friendly;)
Pure

http://www.angelfire.com/pa5/pontiac/knight.html
SL_Ric_OliePure
Mostly mesh editing with subdivide and extrusions. Some volumetric light. Upper right-hand corner done in PSP to reduce file size. Textures are almost all procedural because I ran out of time to make decent textures. I'm burying this thing after today.
http://hyperion.spaceports.com/~ric0olie/mill_02.jpg (copy and paste)
nerddogsThis is a characher I use to draw for my school newpaper back in the mid 80's.
Pure Took about 3 hours today. This is "Bambi the Barbarian "

http://www.geocities.com/nerddogs/bambi.jpg (copy and paste)
d52477001This is a picture of the mystical sword stuck in the rock with all kinds of magic happening around it.
This entry is completly Pure The textures are all procedural except that of the building wall and roof.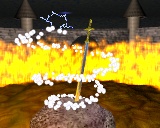 http://d52477001.freeservers.com/images/entry1.jpg
nishinWhat's cookin'?
Pure I was sitting here, bored, so I figured I might as well do something productive. Turned out like this:

http://www.elYsiun.com/timothy/files/nishin_wc.jpg
@ceok this is my Pure entry, modelled and renderred in blender.

http://home.wanadoo.nl/lidia.zagorska/UnderGround.JPG
lizard809here's my entry
i call it Baby Dragon
it's pure, i made the whole thing for the contest, starting on saturuday

http://mysite.iptic.com/cluh/babydragon.jpg
BgDMHere is my contribution for this week. It is an ancient slain warrior laying where he fell beside the castle after a battle.
Pure Done about 90-95% in Blender. The skullmodel I had for along time on my machine. Don't remember where I got it from. The background image is a Terragen image placed in the Backbuff. The rest is all Blender.

http://mysite.iptic.com/bgdm/wc13.jpg
ScottishPigThe tip-top mideval (mediaeval) weaponry. quick to model, texture and render— 100% Blender, pure.

http://www.geocities.com/dapigg2000/1.htm
GoofsterW00T! I made this entry in 10 minutes. I think all of you got the wrong topictitle or something…
Pure

http://home.wanadoo.nl/spruit.haag/Stuff/Medevil.jpg
DaniPure
Just one speedy blur on the foreground…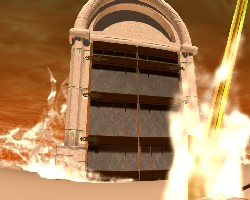 http://dani1.chez.tiscali.fr/medieval.html
[/list:u:f14117e91a]
Open Entries
SGT Squeaks[list:f14117e91a]OPEN
This is a pic of a dragons skull. Most of it was made in blender. But enough of it was done in wings that I decided it should be open. I wanted to spend more time on fixing the creases and adding a good texture, but I've spent all the time I can spare on it.

http://hometown.aol.com/skyf41/DragonSkull.html
ectizenOpen All new, all blender, but it relies too much on the textures for me to call it Pure.
[
http://www.ectopia.net/safi/knife.jpg](http://www.ectopia.net/safi/knife.jpg)
[/list:u:f14117e91a]
…
Sorry about the misplaced entries - I hope I got everyone in there…