Theme #355 for 2 October 2009 is: The Drug
Entry closes at 2100 GMT -5 Monday, 5 October 2009.
Awww yeah. Gonna enter this one. Gonna do it.
Edit: done!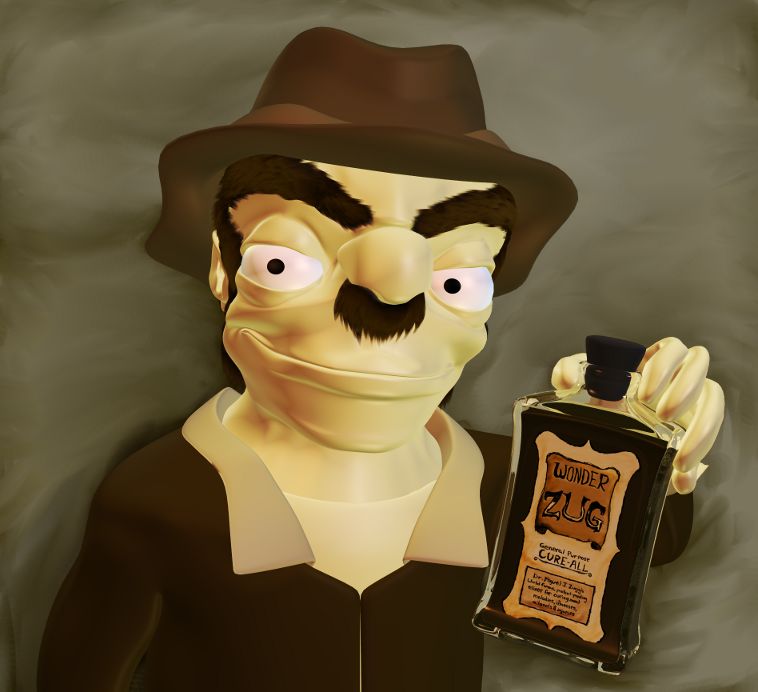 Dr. Miguel J. Zugg sells his supposed cure-all elixir. But is it the be-all end-all drug that he claims? Or is really a goblin of a salesman, as some say?
Right then i'll kick off…

A long way to go, but half way through last night it reminded me of the bar in Akira, so i'll be watching that later.
Yes i'd created the character previously, but only heads now, so I need to do some more bodies (one reason why I decided this image). But just realised I might have uploaded the wrong image.
Can we render our entry in yafaray?
Yes! As long as it is created in blender, I believe anything goes! Last week there was an entry rendered in Indigo.
@paroneayea whoah! I love it! I think Dr. Zugg has just gotten a bad rap. He really is a nice guy after all…isn't he? Darn, I shouldn't have bought that stuff!
The concept, and the modeling is excellent, but what sets this apart to me is the overall color scheme, and how well all the different elements compliment each other. (The hat, the mustache, the label) Great Job! :eek:
Hey N00BIE! Thanks for the super nice compliments! I had a work in progress thread here:
http://blenderartists.org/forum/showthread.php?t=168291
Anyway, maybe I'll even polish it up and dump it in the finished projects section?
Man I am tired though. I dumped the whole weekend into this thing. Time for bed!