This is a frame from a ~22 second short video a friend and I are doing as our final for our Film class. It will not demonstrate our knowledge of film in any way (apart from the fact that we can key out a green screen) but it will definitely show that we can do CG backgrounds for next semester.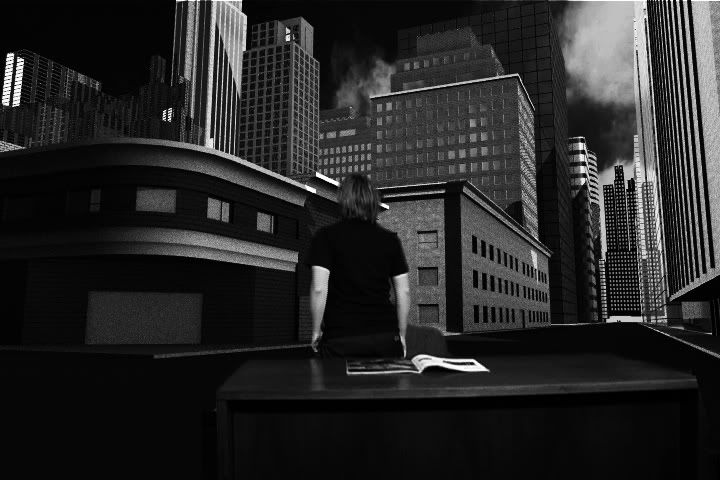 Been working on this for a long time, not so much this particular scene but trying to get everything shot and so forth. Anyway, the background is basically done now, at least for the purposes of it being due on Monday. Feel free to comment and critique anything, or make suggestions. I don't think I'll be able to make many changes before Monday but I'll try if I'm able. Basically, the video is just a teaser for my school's video yearbook, which will hopefully have at least several sequences with fully 3D backgrounds.
This is the original reason I got into Blender. This is the whole reason I started modeling: to make 3D backgrounds for film. I'm really amazed at how well everything is going and the fact that I'm actually able to do this.
The girl and the desk are footage, the rest is Blender. I motion tracked the footage with Icarus and keyed out the green screen in Final Cut Pro. THe whole sequence is still rendering and won't be done until some time tomorrow, and then I will have to do some touchup in Final Cut. We might end up having to make some changes and rerender over Sunday night, and then throw everything together in class Monday morning.
I'm sure there's lots of little things wrong with the scene, and I think the building at the end of the street doesn't touch the ground. The lighting is a little weird and the OSA is at 4 because that renders faster. Still, I'm very happy with it. It looks infitely better that what I had originally.
I did all the foreground stuff and the buildings along the visible street (except the one at the very end). My partner did the buildings in the background. We did the textures together, and he did the final animation on the buildings (they "grow" up out of the ground).
I'll probably post the final movie later, most likely on Monday afternoon. I'll continue to make changes and make it better after we turn it in just so I'll have the best video I possibly can.