I think I'll need a little help here, I'm trying to model this shape: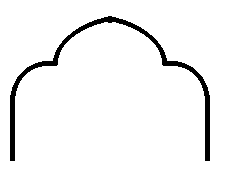 I need a series of these arches running across the model I'm working on, but it's a bit different to anything I've ever made before, the way that it curves off sharply like that, I have no idea where to start. I have a suspicion a few hours work could see it built up a tiny piece at a time, and hopefully then merged into a continuous curve, but I'm not sure, and I'm suspecting there might be easier ways.
So I'm wondering, any experienced people here able to offer a little advice, some tips on what to do to make it easier, anything like that?