Hello all!
So I'm in the process of attempting to build the setting of what I hope to be a short animation. It's going to be a crater with a shield dome built over the top of it. What you see here is a VERY new mesh. It's taken me a while to design but it's getting there.
So here's what I've done. The Crater mesh itself is fairly low poly for it's size/level of detail. I have however applied a sub-surf modifier to the mesh cage to help relieve some hard-lines. It's only a two level. To add detail though, I had multi-res'd the mesh to 4 before I applied the displacement map. Duplicated the model and baked the normals of the high-poly to the low. The result pleases me as far as "bump-mapping" goes. The water is obviously a WIP as right now I'm concentrating on working the waterline to have more natural, softer edges. Note: If anyone has some good tutorials or tips as far as water and waterfalls, please let me know, as those are going to be essential to this scene. So, enough banter, here's the pix!
From a peak on the eastern side of the crater.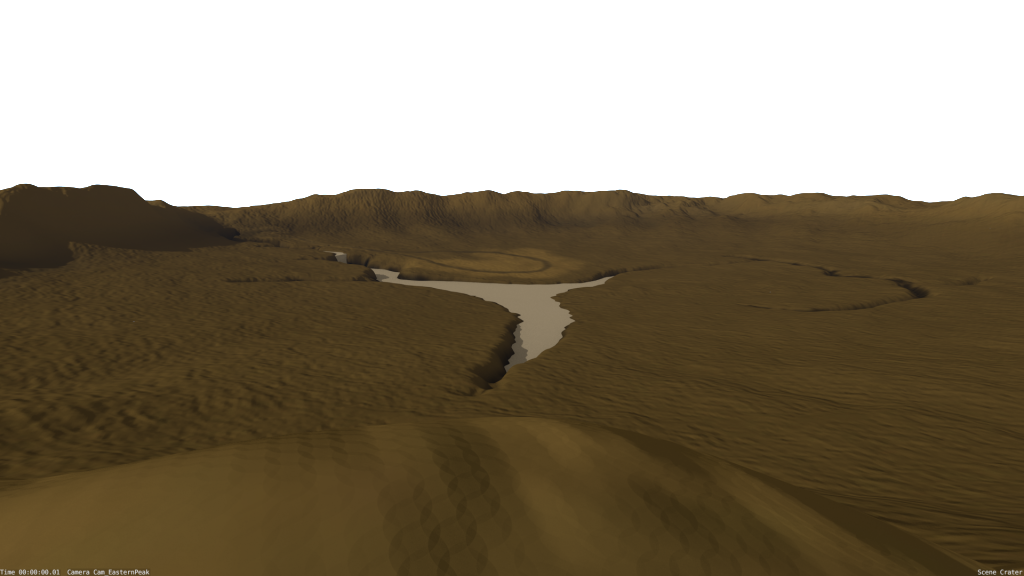 From a pass in the crater wall where a road leads to a town in the center.
From just above a river on the other side of the aforementioned pass.
Comments and suggestions welcome. Please keep it to constructive criticism, it's too baby to be judged as of yet.