I am passionate with the eastern cultures, especially the Japanese history. Anything Japanese catches my eye and thus I have attempted to recreate several Japanese objects in Blender.
The japanese gate gave me some trouble, though, in my early Blender days. That's why I decided to help all of you by making a small tutorial on using curve modifiers on meshes, for instance to make a gate.
STEP 1
Open Blender and add a cube (SPACE -> Add -> Mesh -> Cube) (if there wasn't one beforehand).
Go into edit mode (TAB-key) and subdivide the Cube a couple of times (W - > subdivide). The more you subdivide it, the smoother the result will be but we'll add a subsurf modifier afterwards anyway so don't go insane.
IMPORTANT Do not delete any of the vertices we got by subdividing. If you do, you will experience troubles with your normals later on, which cannot be solved by recalculating the normals.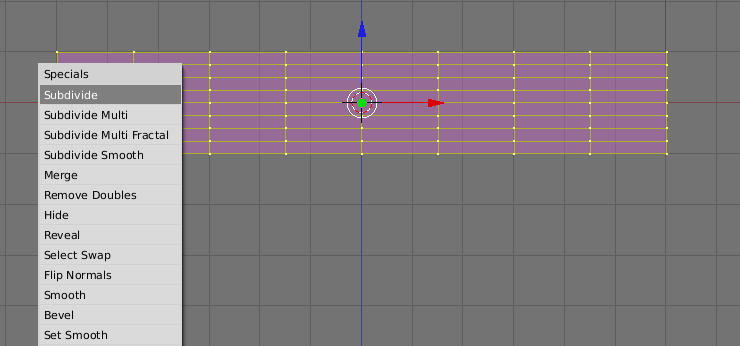 STEP 2
Add a curve (Add -> Curve -> NURBS). I recommend a NURBS, though you can use béziers or paths for some unusual Japanese gates.
Make sure the curve is smaller than your cube and is to be found above it.
Call it whatever you like and remember that exact name.
What the curve looks like is more or less what the curved wooden beam atop the gate will look like, so feel free to edit your curve.

STEP 3
Here's where the fun begins.
Add a curve modifier to your cube (F9 -> modifiers -> add modifier -> curve) and Type in the name you gave to your curve as "Ob".
In the objects buttons (F9) you'll have to do some editing as well. In the "Anim settings" tab you'll find "Track X Y Z -X -Y -Z" and "Up X Y Z" at the top. Turn on both.
Here you'll have to adjust depending on which axis your curve and cube are to be found. If they're in the top (meaning X and Y are your coordinates) then enable Track X and Up X.
Next, parent the Cube to the curve (select Cube, SHIFT + select Curve, CTRL + N).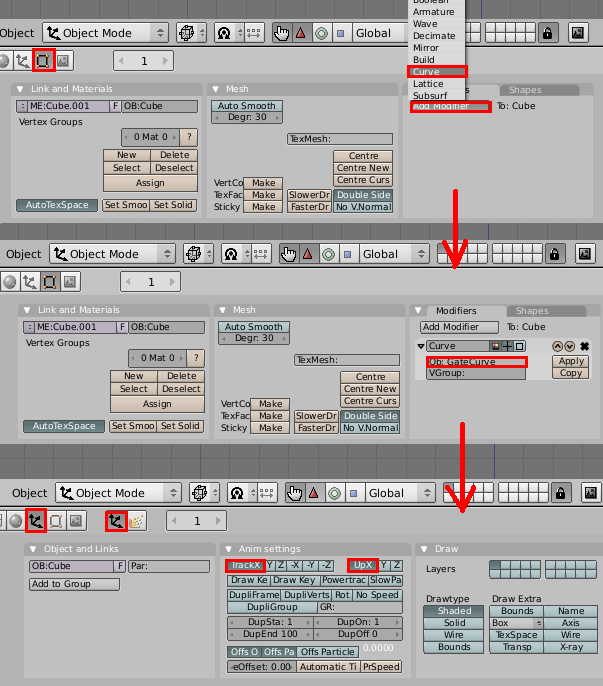 STEP 4
What you'll see is that the cube bending depending on the curve.
However, on both the left and the right there's a part which does not follow the curve. That's because the curve is smaller than the cube (like I told you). Simply scale (S-key) the curve to a greater size.
You may add a Subsurf modifier (modifier tab) and/or a smooth (F9 -> Link and material, Mesh) if you like. DO remember that wood is normally not rounded.
Next you can add the left and right supportive beams and a flat plane under the curved beam if you like. Texture the gate and voila… a japanese gate!
Even if you don't want a japanese gate, here's how to make a mesh bend according to a curve.
I hope this tutorial has been useful.
A good day to all,
Peter.