Retopology auxiliary add-on that includes for retopo functions and external retopo add-ons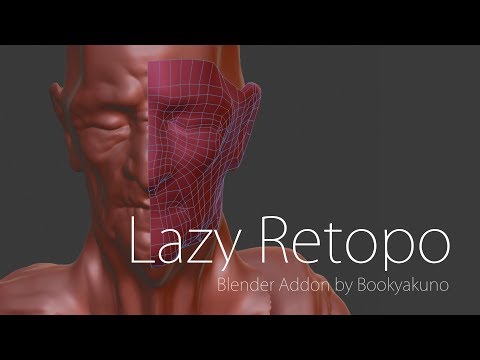 Summarizes related functions so that you can work with Retopo smoothly.
Link
Function
It is an add-on that summarizes related functions so that you can smoothly perform the following processes.
The specific method of retopo is introduced in the above article.
Create an empty object for Retopo
Adjust display settings for Retopo objects and 3D views
Create polygons from a menu of external add-ons
High Poly Project
Adjustment of mesh flow and shape
Correct while highlighting error mesh
Set up empty object
Create an empty object for Retopo and change various settings to make it easier to retopo immediately.
Sets the active object as the project target object
Empty object

Creates an empty object
Bring it to the front
Sets the mirror shrinkwrap modifier

Enable Snap
Snap settings to face
If the BSurfaces add-on is enabled, the empty object will be automatically set as the target object
Project
Projects the object in the retopo onto the high poly object so that the shape follows it.
Resolves an issue where the mesh modifier's affected and actual positions are misaligned during the Shrinkwrap modifier.
Internally, it sets a shrinkwrap modifier and applies it immediately.
Automatically aligns vertices at axis 0 position
| Keymap | Function |
| --- | --- |
| Ctrl + Alt + S | project |
menu
You can access the project from the menu at the top.
From below, you can access various functions with simple icons.
You can access various detailed functions from the menu organized by.
3D View> Side Menu (N key)> Tools> Lazy Retopo
Supports Japanese translation
If the project target object does not exist, the top menu will be "Set up empty object"
Polygon Creation
F2

Highly functional side/surface covering

RetopoMT

Creating polygons with strokes
Creating polygons in slices

Bsurfaces

Polygon creation based on the drawn stroke
From the menu, you can change the display settings of Bsurfaces and the drawing position of annotation
Polygon Adjustment
Looptools

Uniform spacing of vertices

Mira Tools

Edge adjustment using curves
You can change the number of points of C Stretch

EdgeFLow

Shaped into a beautiful topology
Align vertices at axis 0 position
You can align the vertices of axis 0 position that are misaligned in the project with the object using the mirror.
Display
You can switch the display settings of objects related to Retopo.
Mirror modifier settings
Shrinkwrap modifier settings
Material color
Object display options

Front
Wire display
Show all sides
Hide the back

View display options

Hidden wire
Transparent display

Mesh Check BGL Edition

Real-time highlighting of error meshes such as triangles and polygons
Highlight
Highlight triangles and polygons in real time.
Use material.
You can select triangles and polygons within the object.
Currently the Mesh Check BGL Edition add-on is upward compatible.
Menu
Option

You can adjust the project settings. You can add, remove, and display the
vertices to be excluded in the project in the vertex group .
"Click to remove mesh" function
Click to remove vertices or edges.
You can quickly remove unwanted vertices.
You can enable/disable the keymap from the main menu → Options.
It is disabled by default.
| Keymap | Function |
| --- | --- |
| shift + ctrl + alt + left click | Click to remove edges and vertices |
| shift + ctrl + alt + right click | Click to remove loop edge |
Add-on settings
Change tab category settings
Change external add-on settings

You can enable other add-ons and access the download site directly from the add-on settings.

Change keymap settings
Supported Add-ons
Easy access to add-ons about Retopo.
Looptools

Uniform spacing of vertices

F2

Highly functional side/surface covering

Bsurfaces

Polygon creation based on the drawn stroke

RetopoMT

Creating polygons with strokes
Creating polygons in slices

Mira Tools

Edge adjustment using curves

EdgeFLow

Shaped into a beautiful topology

Mesh Check BGL Edition

Real-time highlighting of error meshes such as triangles and polygons
Keymap
| Keymap | Function |
| --- | --- |
| Ctrl + Alt + S | Project |
| shift + ctrl + alt + left click | Click to remove edges and vertices |
| Disable by default | |
| shift + ctrl + alt + right click | Click to remove loop edge |
| Disable by default | |