I created this work for the 3d battle at polish cg vortal max3d.pl
Notes and drawings are made by hand. There is a little riddle on the image but it's all in polish language. This riddle shows you how to read this image, because all notes can be readed using mirror (also in polish)
Story:
In 1494 Leonardo Da Vinci was at Ludovico Sforza's court. Sforza was financing construction of his war machine, tank. Because of huge building costs and chaos on the Apennine Peninsula caused by Italian Wars, the proposal fell through. In 1499 Ludovico Sforza was forced to escape from Milan and the Leonardo's dream about creating new kind of invincible army has gone. Probably this invention could change the history, but it didn't.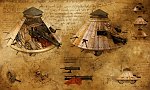 Highres: http://images8.fotosik.pl/59/b7eb45ed703b0ff1.jpg
Original Leonardo sketch:


Model without postproduction: