Misshoni will be a short co-op Metroidvania with emphasis on teamwork and getting by with help.
Hey. So, I've paused development on Soldier Of to try to make a game in a month, which is this one, Misshoni. It's kind of a stupid name, but it comes from "Mission", and "Isshoni", which means "together" in Japanese. I started Misshoni a few days ago. It probably won't sell for very much when I'm finished (I'm thinking $2-5). As usual, I'm using the Blender Game Engine for this project.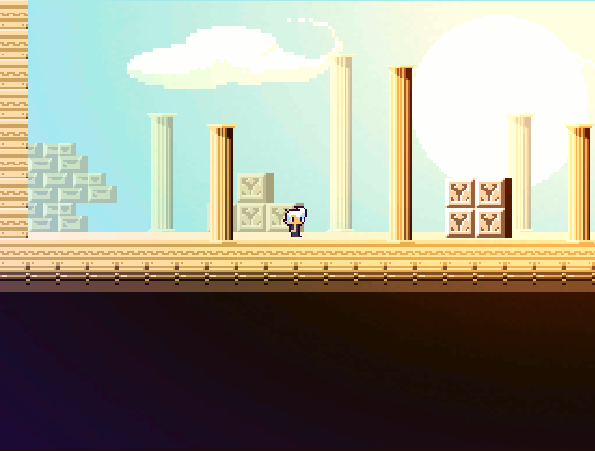 You will be able to play with a buddy, or go it alone with the CPU controlling P2. While the main gameplay will be the usual combat-oriented Metroidvania, there will be some co-op techniques, like standing on each other to reach higher areas, reviving each other when downed, or pulling each other up ledges. Think something like Cave Story + ICO, but your partner is as capable as you are.
The really tentative plot is that the main characters wake up having been transported to the ruins of a floating city by an unknown force. They have to figure out a way home.
At the end of the month (October), I plan to release it. I might go back to Soldier Of then, unless I'm really close to finishing and monetizing Misshoni. I suppose I'll also be doing this for Ludum Dare's October Challenge, which is to get a game finished and monetized by November 1, or something to that effect - the rules are a bit vague. I'm starting to doubt that I'll get it 100% finished in a month, but I might be able to get it to a release-able level, anyway.
So anyway, LET'S DO THIS!


-----------HEYHEYHEYWAITWAITWAIT-----------------
The pre-alpha demo for Windows and Linux is available now here.