My cat Kairi turned 11 this year, and we watch a lot of anime together.
I decided that I wanted to capture some special moments of us together for me to look back at later on in the future. This first one was from the Classic Studio Ghibli film "My Neighbor Totoro".
This project was also a chance for me to use a lot of different skills and techniques I have been working on over the past few years. From projection mapping to environment blocking, photoshop cleaning and asset prep, After Effects compositing, and Lightroom tweaking. I wanted to use all my skills at my disposal to make this piece happen. I worked slowly on this over the course of a few days. If your interested in seeing the process first hand, you can check out the Time-Lapse Video I made for it.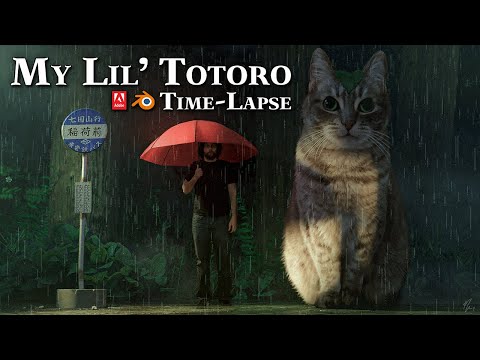 ---
UPDATE 06-2021
I was very honored and shocked to be asked to write a Behind the Scenes about this piece for Blender Nation! I go into depth on the process I used to make this piece as well as let you know a little about what goes through my brain meats when creating a piece like this. I hope you enjoy and maybe even walk away with something new.