Well, this is my second major project using blender. I've been using it for about 2 and a half weeks. I wish I could have used it more but I've been moving. I really love 3d and I want to excel in it. I'm glad I can start at such an early age, 13.
Now, I am trying to model Patrick Star from Spongebob Squarepants. Here he is: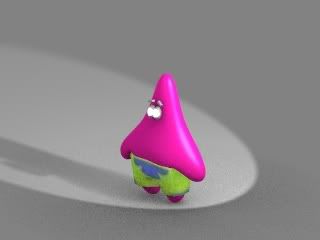 Now, I have a problem with the back. I used a weird technique. I took a plane, and made the shape of him. Extruded it and then used subsurf to make him rounded. But his back has a few artifacts and I don't know how to fix them. Could someone tell me what might be wrong? and how to fix it?
BTW: I know he looks kinda plastic. that's just a test material. C&C welcome