My Entry's title, Caustic Primitive Behavior, depicts 2 meanings of topic:
How costic reflections behave with primatives.
Cutting or Damaging unsofisticated behavior.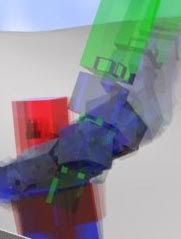 I'm extremely irritated with Yafray. I couldnt get alot of thigns I wanted to do to work.
I wanted to texture the ground, but the caustics would disapear.
I had a better sky but YafRay does some strang things with procedurals
I wanted more advanced lighting but I spot lights even at .01 intensity would burn the bajesus out of the ground… and a plethera of other problems. Oh, this is my first caustic render btw.
The victim is intentionally untextured. and Motion blur was done manually, since Yafray apparently doesnt support it.
PS. Thanks Prince for helping me with the Yafray settings.