Hey all,
Here is a fountain that i have been working on over the past week.
Its about 90% done modelling wise as i have still got to add some new pieces and refine what i have currently before i start to sculpt it (the triangular pieces on the arches need to be scaled as do the small pillars that connect the arch to the top middle trim).
Im definitely going to add more things like water spouts etc., along with some larger detail work on the Middle-Top part, but i wanted to get the whole basic shape done before i start focusing on small details.
Also im thinking about making a vaulted ceiling for the inside, which i think will look rather awesome.
Everything was modelled in in 2.49b 64bit.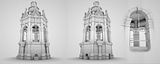 Any comments and critique would be great
Thanks for looking!